Clean Water

Initiatives
Reliable access to a
safe water source is a
fundamental human need.
Sick from the source. On our travels around Vietnam, an undeniable and alarming issue was the water quality. We would see families bathe, wash, cook, and drink from the same dirty water source. We heard first-hand from the communities that the water was unsafe and causing health issues. In many parts of the Mekong Delta, villagers struggle with accessing water supply stations too far from their homes. During dry season, water channels run dry. Rice harvesting season contaminates canals with flocks of ducks, plastic, and pesticides.
Water Well

Projects
Dirty water affects the health of those who use it, heightening the risk of disease. These issues are not isolated to these regions alone. We raise funds for materials, development, and construction of wells & pumping stations that bring clean ground water directly to the homes of hundreds of families. We are committed to solving these issues, one community at a time.
Village Elder: "I've prayed for it my whole life. I'm 77 years old and can die happy now knowing my grandkids have access to safe water"
Stats & Progress
15
locals employed in construcion and upkeep of water station
13,000
cad dollars was price of well
21
days to complete project
150
households benefited from this project
Water Filter

Initiative
We travel to remote areas and provide
sustainable water filters to families. At approx.
150
USD

per filter, these are affordable solutions for
those who live deep in the country.
Education We guide each family through assembly so they have a strong understanding and sense of ownership of the product. In small groups we give thorough lessons on waterborne diseases and the importance of sanitation.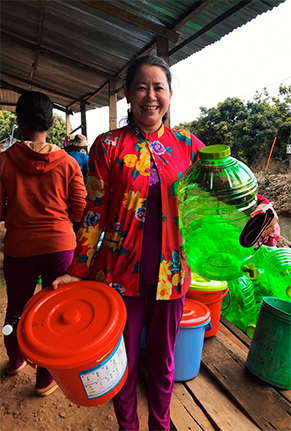 Maintenance. With proper care, these simple water filters can provide a family with drinkable water for up to 10 years
Water is Life